04 mars 2007
Matonge happens to be a quarter of Kinshasa, known for its lively atmosphere,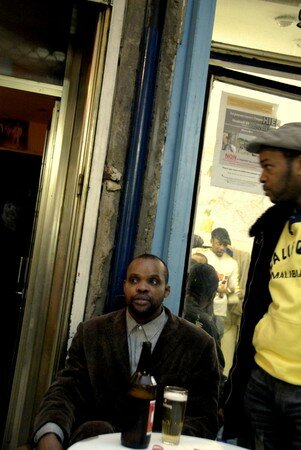 rich night-life, and abundance of lychee fruit. Africans coming to Belgium have started applying the name to a part of Ixelles that begins at Porte de Namur but no one knows exactly where it ends ... Out in the streets, the population is relatively mixed, but the heart of the area lies in the old shopping galleries full of bars and hair-dressers, where non-Africans seldom venture... It isn't an area ideal for taking photos, since most of its inhabitants do not like to be observed, let alone photographed...

Yet this Saturday was a great time to visit, since Matonge hosted several of the numerous activities of the BRXL BRAVO arts festival. Thus there were more 'outsiders' moving about, and the locals' attention was more evenly spread, if not totally distracted. Still, taking photos directly was almost impossible, hence the rather meager results (see ALBUM).

I also joined a guided tour led by Monsieur Kungu, a very likable character who is involved in organising various cultural events, and fostering ties between the African and other communities living in Brussels.

Commentaires sur A tour of Matonge